COVID-19 has irrevocably impacted retail, with brick-and-mortar stores shifting processes and customers changing the way they make purchasing decisions. Retail stores must proactively prioritize the in-store customer experience in response to changing shopper expectations.
According to a recent McKinsey study, more than 75 percent of consumers have experimented with their shopping behaviors, including trying new brands and places to shop. Their top priorities when trying new brands were availability, convenience, and value. Not only that, but, "Consumers are actively looking for safety measures when deciding where to shop in-store, such as enhanced cleaning, masks, and barriers."
It should be no surprise that safety is a top priority for customers while shopping. Several studies show that when consumers are deciding where to shop, they seek out the retailers with visible safety measures. This can include increased cleaning processes, physical barriers, and hygienic packaging.
Nearly all retailers have rolled out new hygiene processes since the pandemic began, but information is being introduced nearly every day. Retailers must be able to move quickly to respond to new information, so customers feel safe in-store. Not only that, but operators need a system in place that allows for protocols to be swiftly distributed across stores and employees.
Shops will more quickly adopt new processes, and customers will have a consistent experience from location-to-location. Consistency builds trust with customers – especially new customers visiting your store for the second or third time.
With a digital workplace like Konverse, operators and staff can share news, protocols, and training videos. Operators can also track adherence with group task management and workflow capabilities to ensure maximum efficiency regardless of a fluctuating market.
Because shopper expectations and behaviors are changing so rapidly, your team should consider how you can solicit feedback from key shopper demographics. Do customers feel safe in your store? Would they be interested in new services (like delivery, contact-less pickup, pre-made kits, etc.)? Are there certain elements of your in-store experience they don't want to change?
Online and in-person surveys can give you a greater sense of overall customer sentiment and this data can be used to make informed decisions to pivot or improve processes.
Mapping the In-store Customer Experience using the 5 Es
If there is a lot of uncertainty around your business's in-store experience, consider mapping your assumptions using the 5Es Experience Design Model, first invented by Larry Keeley in 1994 and re-engineered by Konverse to consider the in-store experience of your customers.
What are the 5Es?
The 5 Es are as follows:
Entice: What attracts someone to the experience? What is happening that leads a customer to enter your store?
Enter: What happens when someone enters the store? This is a key moment of transition when a person becomes a prospective customer.
Engage: What activities is someone participating in within the store? What is this experience like?
Exit: What happens when someone exits the store? This is the clear end of the in-store experience.
Extend: How is your brand still impacting the customer after they have left? What did they bring with them to 'extend' the experience?

The 5 Es can be used to map all types of experiences, from a digital journey to a bespoke event. In this context, the 5Es help operators understand the key moments of the customer experience while in a brick-and-mortar store.
This model can be used to think through your user's journey to create the meaningful experience, whether physical or digital. When you have a brick-and-mortar store, the model can help you understand what touchpoints you have in your arsenal and any blind spots that may exist when thinking about how your customers move through the store. The key touchpoints that make up a customer experience include marketing material, the products you sell, and the employees working in-store.
Of course, there are endless variables that can greatly change how this experience plays out, so consider pinpointing a key buyer persona and ideal scenario when first using the tool. If you are soliciting reviews from current customers via surveys, use key insights from their feedback to plug into a hypothetical journey to make it as close to reality as possible.
To get started, outline critical touchpoints throughout the 5Es. Consider this example:
A grocery store has coupons in a mailer that entice a customer to head to the store. Once they enter, they see an employee wearing a mask wiping down and distributing disinfected carts. There may be a few sale items with individually packaged samples towards the entryway of the store. The customer sees a stand selling meal kits and picks one to try at home. As they walk through the store, they stop to ask an employee help to find an item. It turns out that item is out of stock, but an employee is able to help the customer choose a similar item with a different brand. Once the customer has all the items they need, they use a self-check-out station, which prints out coupons for their next visit. They drop off their cart and exit the store. Once their groceries are loaded in their car, they put on hand sanitizer and head home.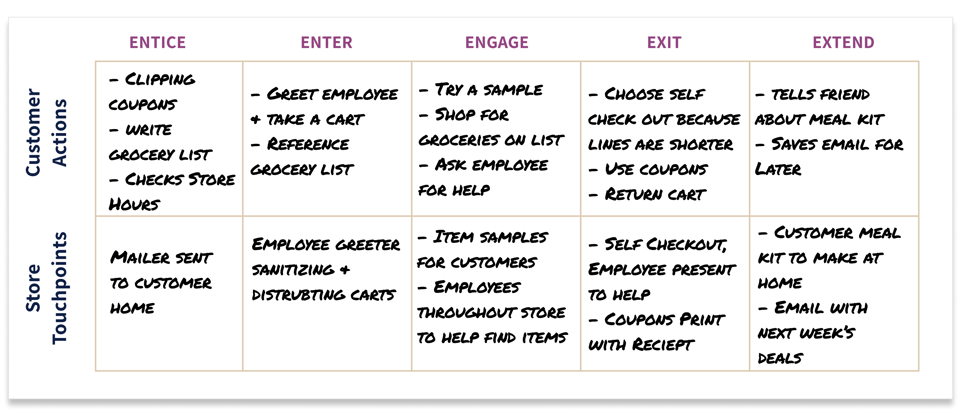 Here is a pared down example of a customer experience while in a grocery store.
To get a better understanding of how your touchpoints are impacting customers, brainstorm persona bright spots and low points throughout the 5Es journey to identify new opportunities.
Bright spots are highlights or positive experiences throughout the journey. For example, a customer might consider safely packaged food samples to be a highlight of her experience while moving through the store. Bright spots help operators understand what's working but can also inform how to improve other touchpoints.
Low points are the experiences related to negative emotions. Low points cannot always be preventable but can be mitigated with positive touchpoints. For example, most people don't 'enjoy' paying for items at the end of a shopping experience. However, if a customer has coupons that lower the initial price of that purchase, they may feel satisfied with their savvy shopping skills.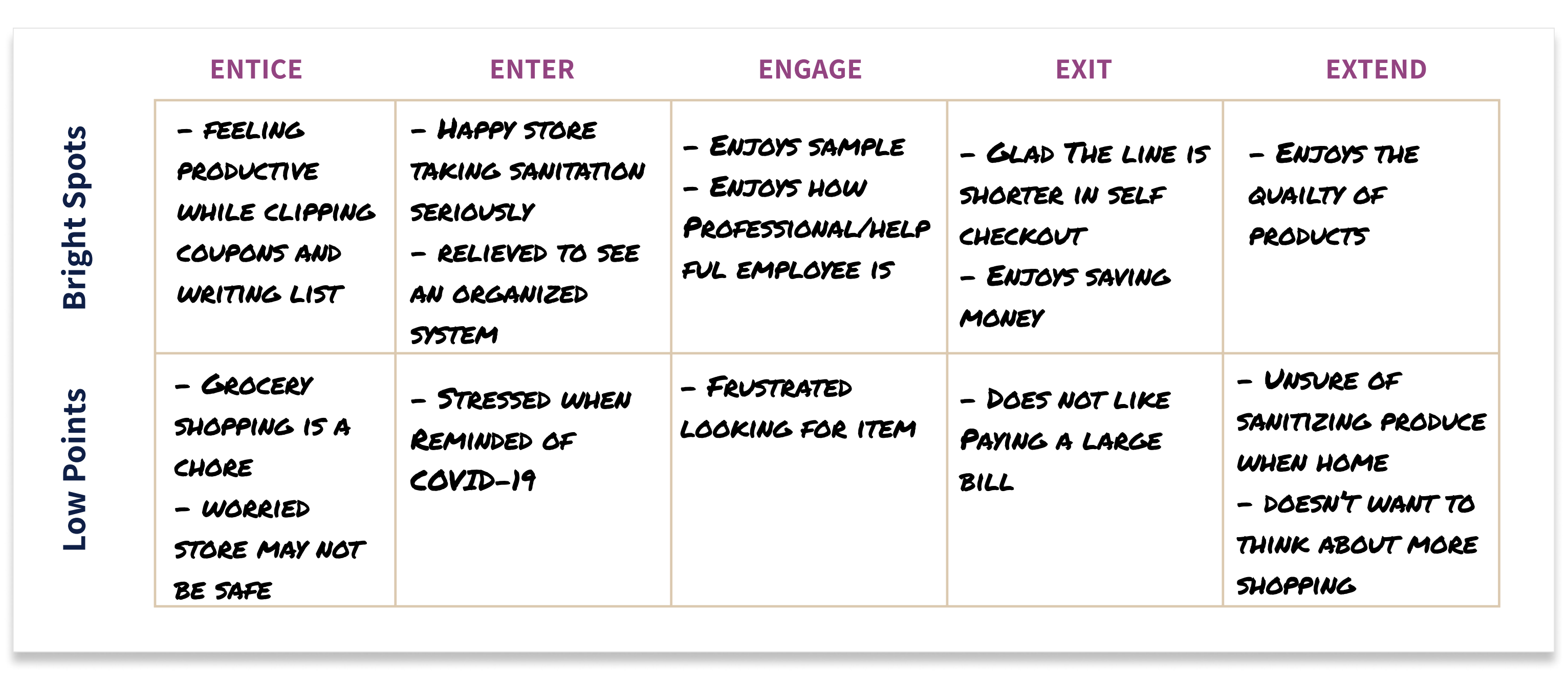 Sticking with the same example above, we can use this framework to brainstorm bright spots and low points customers might experience as they move through the store. Leaders can then identify opportunities for improvement or high points to build upon.
In the above scenario, what's working? Where is there room for improvement? How can operators emphasize bright spots throughout their stores and mitigate the risk of low points? Are there common themes?
For example, most high points are related to the customer interacting with an employee. Knowing that employees have a major impact on the customer experience, consider how you can equip and empower teams.
Start a monthly training program that teaches employees about different products. That way, if something is out of stock, an employee can make authentic recommendations to a customer to alleviate frustration. If seeing other customers in the store without a mask on is a massive detractor for your customer base, you may need to invest in employee training to productively interact with those customers who are not in compliance with store rules.
Need a tool to share information, train employees, and unite your workforce? Contact Konverse.
Or, consider the customer's low point where they are concerned with whether or not to sanitize products once home because of COVID-19 concerns. Create a simple printout or email with guidelines on washing produce and whether or not they 'need' to disinfect packaged products. It's an easy touchpoint that proactively responds to uncertainty and builds trust.
Operators and their stakeholders can brainstorm and identify opportunities to improve touchpoints or introduce new ones to proactively improve the customer experience during the COVID-19 pandemic. If possible, operators should also try this activity on their actual customer base to pressure test their assumptions and receive direct feedback.
Designing the Ideal In-store Experience
By understanding changing customer expectations (prioritizing safety and convenience), operators can strategically pivot the current in-store experience.
Changes can be as simple as updated signage and as significant as improved employee training or introducing new services. What's important is that you prioritize customers' needs and emphasize a consistent, safe experience.
Want to try this framework out? Download it for free here.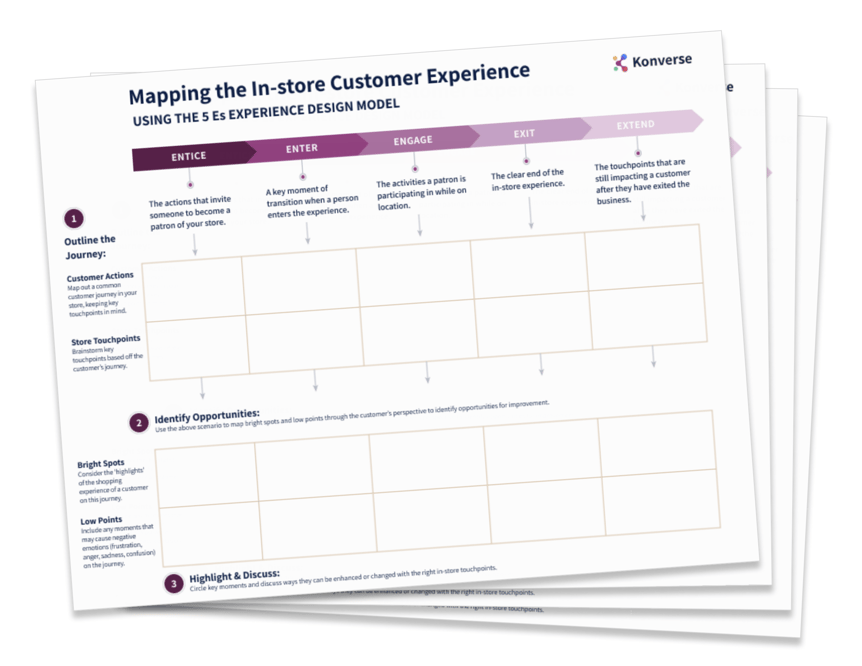 Use this worksheet to pressure test your assumptions, brainstorm new ideas, and start discussions with your leadership team. Download here.