As companies continue to strive for greater equity, diversity, and inclusion in the workplace, they must think beyond people; and ask themselves how technology can play a role in amplifying DEI initiatives.
Defining DEI
Improving DEI within in an organization can't happen overnight, but with communications tools in place, leadership can distribute resources, set policies, and encourage productive dialogue. But first, what is the difference between diversity, equity, and inclusion?
Diversity oftentimes focuses on people and all the ways in which they may differ. This can include race, religion, ethnicity, gender, sexuality, physical and mental ability, education, citizenship and more.
Equity is about creating fair access, opportunity, and advancement for those different people.
Inclusion relates to a sense of belonging and the psychological safety of your employees to bring their whole selves to work. An inclusive workplace recognizes and celebrates differences among employees and cultivates a space with both formal and informal processes, interactions, and resources with equity and diversity in mind.
The Business Case for DEI
Conversation around diversity, equity, and inclusion within the workplace have been a common topic in the professional zeitgeist for some time, but in the last few years have been especially top of mind for leading executives.
More and more workers want to keep their companies accountable to equitable hiring practices. In fact, in the most recent CNBC/SurveyMonkey Workforce Survey, nearly 80% of workers say that they want to work for a company that values diversity, equity and inclusion. Prioritizing these practices is especially important in a competitive labor market.
Diverse talent also allows new ideas and ways of thinking to be introduced to an organization. According to a recent report from the International Labour Organization, the companies with "inclusive business cultures and policies" see a 59% increase in innovation and 37% better "assessment of consumer interest and demand."
3 Ways to Use Konverse to Drive DEI
Consider the following five ways to use your Konverse platform to foster an inclusive culture at your workplace.
1. Launch an Inclusive Workplace Agreement
Set clear expectations for all your employees by creating an Inclusive Workplace Agreement for teams to review and sign within the Konverse app. You can create an agreement using the Policies feature or by creating a custom pop-up that must be read and signed before granting access to the app.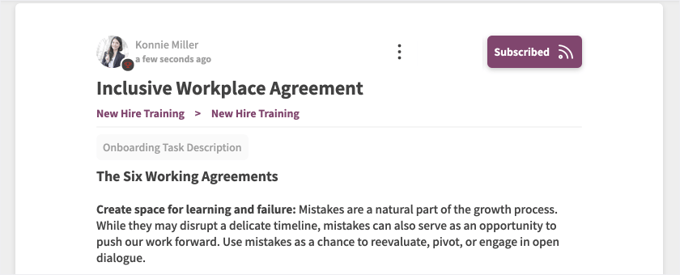 An Inclusive Workplace Agreement is a set of principles designed to foster a more inclusive work culture. Examples of principles may include:
Practice inclusive speech.
Prioritize impact over intent.
Commit to always learning.
This type of agreement can also include formal statements around harassment and bias.
By ensuring employees view and sign the Inclusive Workplace Agreement at your organization, your team is making it clear that the business prioritizes inclusion and is committed to creating a safe working environment.
2. Create Training Rooms for Learning
Beyond setting expectations for employees, consider offering ongoing training focused on inclusion, work collaboration, and reducing bias.
Whether you're creating your own internal DEI training content, outsourcing material from a single source, or curating free resources, it's easy to set up a Room in Konverse dedicated to ongoing training. With Konverse, admins have access to analytics, viewing who's engaged with the content, time to complete, and more.
With DEI training rooms, your teams develop the skills needed to create an inclusive environment, and leadership signals to employees that this type of work is valuable to the organization
3. Make Resource-sharing Easy
Beyond offering education on DEI topics, businesses should create "spaces" for individuals to share ideas and resources. With Konverse, admins can create Rooms specifically focused on DEI topics, from women in tech to inclusive design to working parents and more.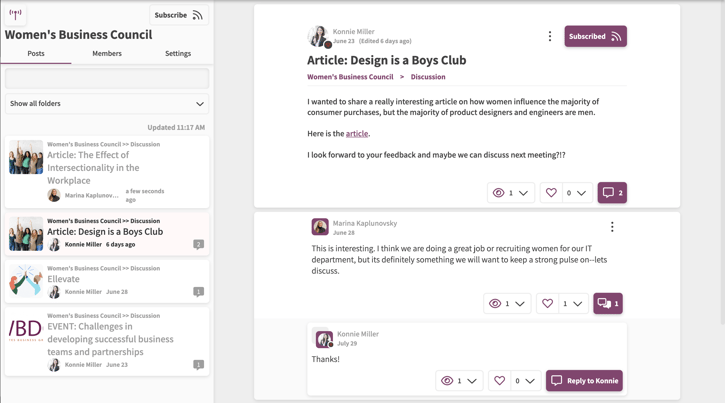 By creating rooms to share articles, videos, and individual experiences, employees have an opportunity to teach and learn from one another, building camaraderie. This type of enrichment can build deeper relationships among teams and between employees and the brand.
Investing time and resources into developing DEI initiatives is worthwhile at any business. Konverse is a powerful tool to share resources, create a dialogue, and distribute essential policies. Admins can empower employees with further learning and create an environment where inclusion is at the forefront. Invest in DEI and you'll find a happier, more engaged workforce.
Learn how Konverse can help your team when you talk to an expert today.