What is employee engagement?
According to SHRM, employee engagement refers to the level of commitment and connection an employee feels to their organization. High employee engagement is often associated with higher productivity levels, higher retention rates, and improved loyalty. Research also shows that employee engagement is linked to customer satisfaction, brand reputation, and stakeholder value.
Why is employee engagement important for deskless staff?
Many industries with deskless staff – like retail and food service – have notoriously high turnover rates. Because deskless staff are not working in traditional office settings and are not communicating with senior leadership regularly, it can be more difficult to connect with the brand.
However, these workers are – quite literally – the face of the brand. They interact with customers on a day-to-day and directly shape the customer experience.
Organizations with employee engagement strategies empower their staff, better serve their customers, and improve turnover rates. Konverse customer Hyatt is one example of an organization deeply committed to employee engagement with the results to back it up.
The average Hyatt housekeeper employee stays with the company more than 12 years. Clearly, an employee engagement strategy that prioritizes staff empowerment, training, and care can have exponential benefits.
How do I create an employee engagement strategy?
There are a few considerations when developing your employee engagement strategy:
Goals to ground your strategy

An approach that considers different types of communication structures

Tech to support and implement your engagement strategy
Data to keep your business nimble
Creating an Employee Engagement Strategy
Step One: Set Strategic Goals
With any strategic endeavor, setting goals grounds your approach in measurable results and informs the tactics you should use.
Bring key stakeholders together to align focus on what's most important. What are you trying to accomplish? Do you want to reduce turnover, improve productivity, increase your eNPS score, or something else? Try to prioritize these goals from most to least important with your stakeholders to narrow down to one or two goals. Employee engagement doesn't happen overnight, so identifying one or two goals keeps you focused and helps make efforts more sustainable over time.
Step Two: Build Your Internal Communications Strategy
Once you've set goals, identify the tactics that best serve those goals. If you'd like to improve productivity, offer training programs that help employees get better at their jobs or implement technology that helps them work smarter.
Build out a multi-pronged communication strategy that considers the following communication structures:
Top-down: the announcements, policies, and training from leadership being disseminated to locations, managers, and individuals.
Peer-to-peer: exchanges between individuals or small groups at a location or staff level
Business-critical: the task management and process support that empowers employees in their day-to-day work
Bottom-up: the opportunities provided to employees to submit feedback, ask questions, and create a dialogue with the leadership team.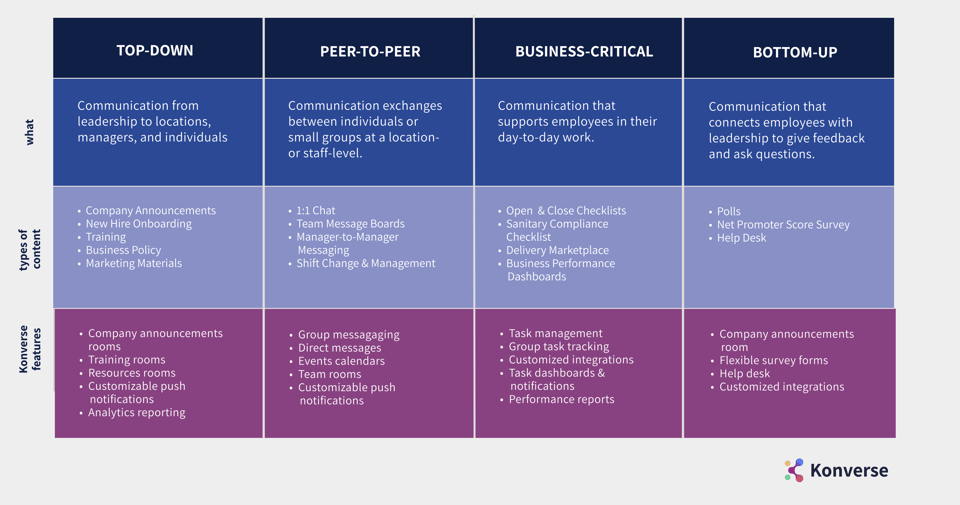 By considering all four communication structures and implementing consistent messaging across these channels, you can build an integrated communications strategy that better reaches key employee demographics.
Step Three: Activate Your Strategy with the Right Tech
Once your strategy is in place, it's time to put it into action. Consider testing how different content performs (example: posts with images versus posts without or training videos vs training documents).
Do you have a way of ensuring employees view messages through push notifications? What does task tracking look like at your organization? What system are you using to poll employees?
Konverse has all these capabilities and more. Get a demo today.
As you build out your strategy, consider applications that make it easy for employees to easily track and digest information and for leadership to measure engagement.
Consider using the following Konverse features:
Company announcements to engage employees from top-down
1:1 chat to allow managers to check in with their employees regularly
Task management to better understand productivity levels at the employee and location-level
Surveys that solicit employee feedback to give leadership actionable insights to make positive change
Step Four: Measure, Learn, Iterate
When your team begins activating your employee engagement strategy, make sure to measure how employees are interacting with content.
Consider a/b testing content to understand how small tweaks impact engagement. For example, compare how many views a post from corporate leadership with imagery receives versus a post sans imagery. Or, consider testing how quickly video training is completed versus training with documents.
Other data points to track:
View rates
Number of comments on an announcement
Click rates
Task completion rates
Track these tactical data points back to your strategic goal to measure the success of your efforts. Set up regular check-ins with key stakeholders to review the data and make informed adjustments to your larger employee engagement and business strategies.
Ongoing Employee Engagement
Employee engagement doesn't start and end with an internal communications campaign. Building a culture that encourages employee engagement takes time, research, and proactive action. Continuously check in on your employees, take the time to learn about their bright spots and low points throughout the employee experience, and continuously ask yourself how leadership can be doing better. With that in mind, you can create an employee engagement strategy that supports your staff and strengthens your business.